FULL DENTURES: Laboratory Information
The right solution for stronger dentures


Custom-made lightweight, esthetic, bonded reinforcements in 20 minutes


3 times stronger than regular dentures


When to use FiBER FORCE®
The acrylic resin used to make dentures is fragile. Dentures can break down from fatigue caused by continual micro-shocks while chewing. A denture can easily break if dropped, resulting in unpleasant and potentially embarrassing situations for denture wearers.
Now, you can prevent these situations from happening by processing Fiber Force dentures. Fiber Force dentures are 3 times more resistant to fracture. Fiber Force is significantly more resistant to fatigue break-down over time.
Though FiBER FORCE® is ideally suited for all new full dentures, it is particularly indicated anywhere traditional metal reinforcements are used:
Patient dentures are fitting well but are still breaking
A full denture combined with natural dentition in the opposing jaw
Thin dentures where vertical space is limited
Patients with strong bites
Removable implant-supported dentures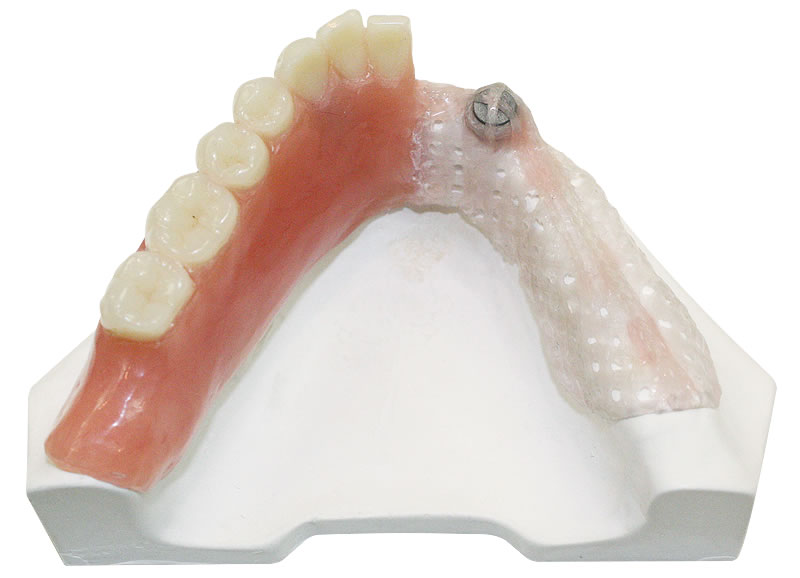 "Patients don't want broken dentures - you can help your clients to avoid fitting broken denture emergencies into their busy days!"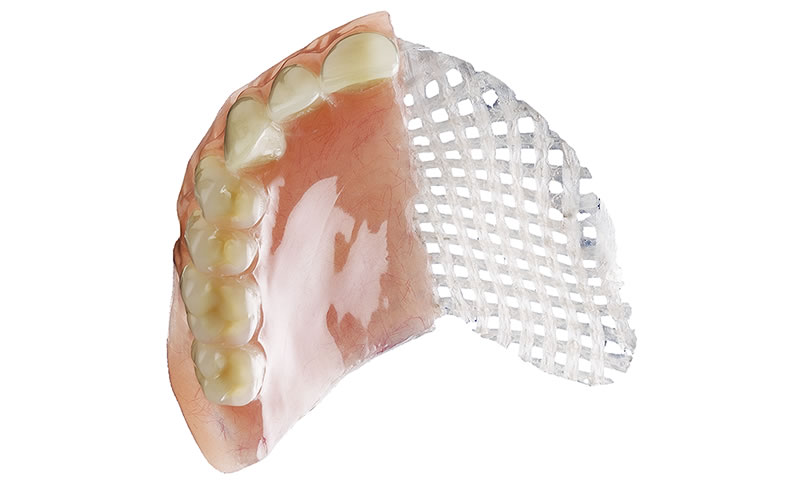 FiBER FORCE® Advantages
Significantly superior fatigue resistance
FiBER FORCE® flexes with natural chewing
Significantly superior fracture resistance
Virtually invisible (ultra-thin dentures) to invisible (traditional thickness dentures)
Light weight
FiBER FORCE® mesh chemically bonds to methacrylate resins
FiBER FORCE® is industrially pre-impregnated for superior chemical bonds
Unique patented process and materials customize and compress an ultra-thin FiBER FORCE® mesh within an acrylic "sandwich"
Fast lab process without delays in processing your dentures
Completely replaces previous cast reinforcements in "problem" situations without any of the inconveniences of metal
Metal free - nontoxic - non corrosive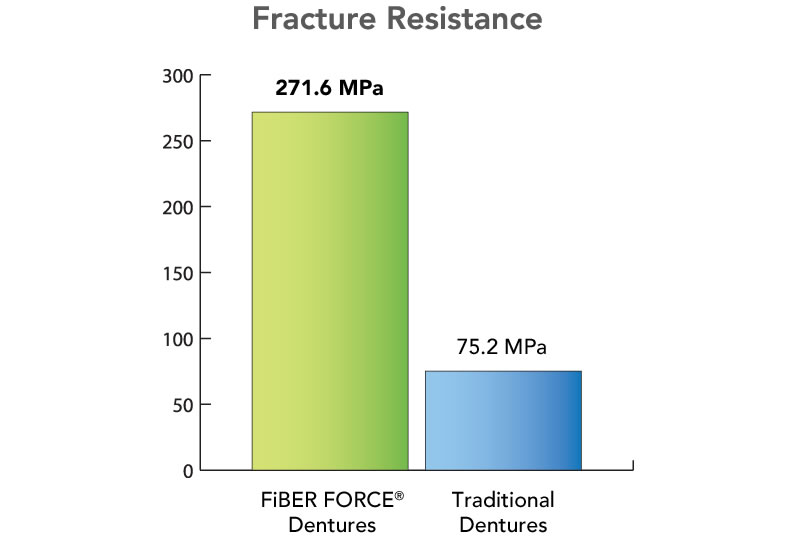 FiBER FORCE® offers additional internal benefits to the laboratory
A straightforward process that offers consistently successful results
Takes one case to learn the process
Takes about 20 minutes to do a complete reinforcement (slightly longer for implant cases)
No additional delays or outsourcing for cast reinforcements
No additional outsourcing of profits
A complete range of products for a wide variety of fiber-based applications
A Splintvac included through our web special offer that allows you to make thin, perfectly adapted reinforcements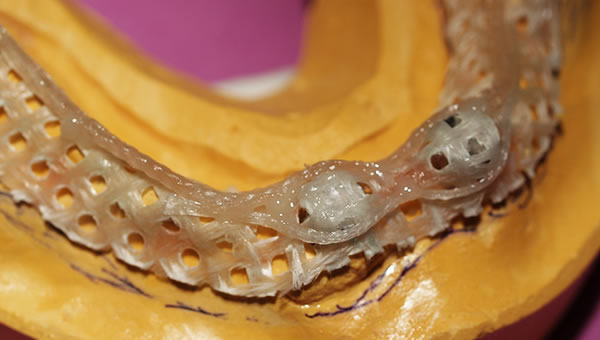 How to get started
FiBER FORCE® Starter Kit
We have assembled everything that you need to start processing FiBER FORCE® full dentures, implant-supported dentures and dentures repairs into an attractive starter kit. The full denture starter kit include the exclusive EZ VAC forming unit (sold separately). Since the EZ VAC is an integral part of making successful FiBER FORCE® dentures, it is a necessary part of the starter kit.
Make every denture a FiBER FORCE® denture
With the full denture starter kit, you have everything you need to make approximately 7 full arch FiBER FORCE® dentures, and additional materials for as many as 12 denture repairs or for use with implant supported dentures or other denture applications.
To repair existing denture with FiBER FORCE®
FiBER FORCE® is an oustanding alternative to metal wires of all types for denture repairs: easier, faster, stronger.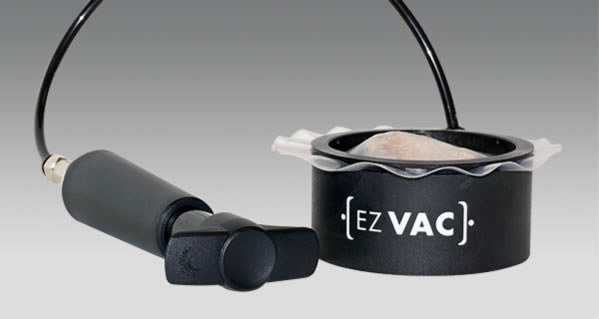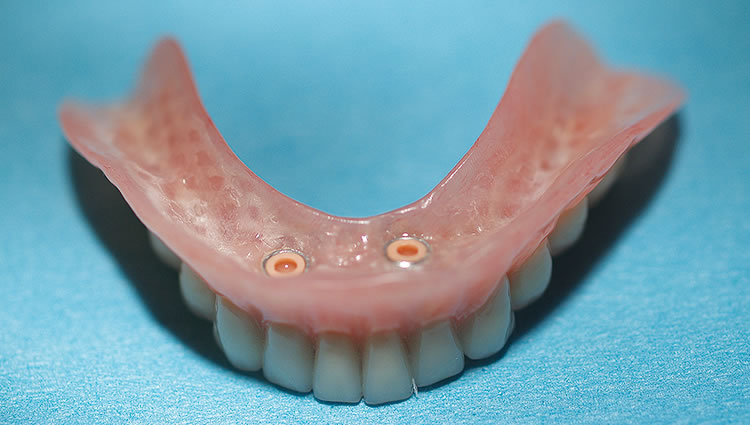 Additional Information
Costs per unit
| | | |
| --- | --- | --- |
| DENTURES: | REQUIRES: | COST: |
| Complete upper denture | 1/3 to 1/2 package of FiBER FORCE® mesh | $30-$44.50 |
| Complete lower denture | 1/3 package of FiBER FORCE® mesh | $30 |
| Complete upper denture with vestibular coverage | 1/2 package of FiBER FORCE® mesh | $44.50 |
| Complete lower denture with vestibular coverage | 1/3 to 1/2 package of FiBER FORCE® mesh | $30-$44.50 |
| Implant supported dentures | In addition to complete denture costs listed above, implant supported dentures can require up to 6 inches of FiBER FORCE® braided fibers that are used to reinforce the abutments. | additional $40 |
| Denture repairs | 2" of FiBER FORCE® fibers (UD, 2mm braid) | $13 |
**Costs listed below are approximate cost for FiBER FORCE® materials alone and are based on purchasing 6 boxes at a time.**
Note - Vestibular coverage
Vestibular coverage is not necessary to make a stronger functioning denture. However, if a denture has FiBER FORCE® in the vestibular area, it is significantly more resistant to breaking if dropped.
Videos, Tutorials & Instructions
Product Brochure
Download and print or e-mail the latest FiBER FORCE® product brochure. It answers most of the questions that dentists have before prescribing FiBER FORCE® dentures for their patients.