DENTURE REPAIRS: Laboratory Information
For strong Lab denture repairs
An independent study has shown that denture acrylic loses 40% of its fracture resistance after being repaired by traditional methods. Most often, repaired dentures will just break again.
By reinforcing the repair with FiBER FORCE® UD fibers, it is possible to add significant fracture and fatigue resistance to the repaired denture. A study has shown that repaired denture acrylic that is reinforced with UD pre-impregnated e-glass fibers (the material used to make FiBER FORCE®) was 58% stronger than the original acrylic and 166% stronger than acyclic repaired in a traditional method.
FiBER FORCE® Advantages
Significantly superior fatigue resistance
FiBER FORCE® flexes with natural chewing
Significantly superior fracture resistance
Virtually invisible repair reinforcements
FiBER FORCE® chemically bonds to methacrylate resins
Fast lab process without delays in processing your denture repairs
Metal free - nontoxic - non corrosive
FiBER FORCE® repairs offer additional internal benefits to the laboratory
A straightforward process that offers consistently successful results
Takes one case to learn the process
Takes about 5 minutes to do a repair reinforcement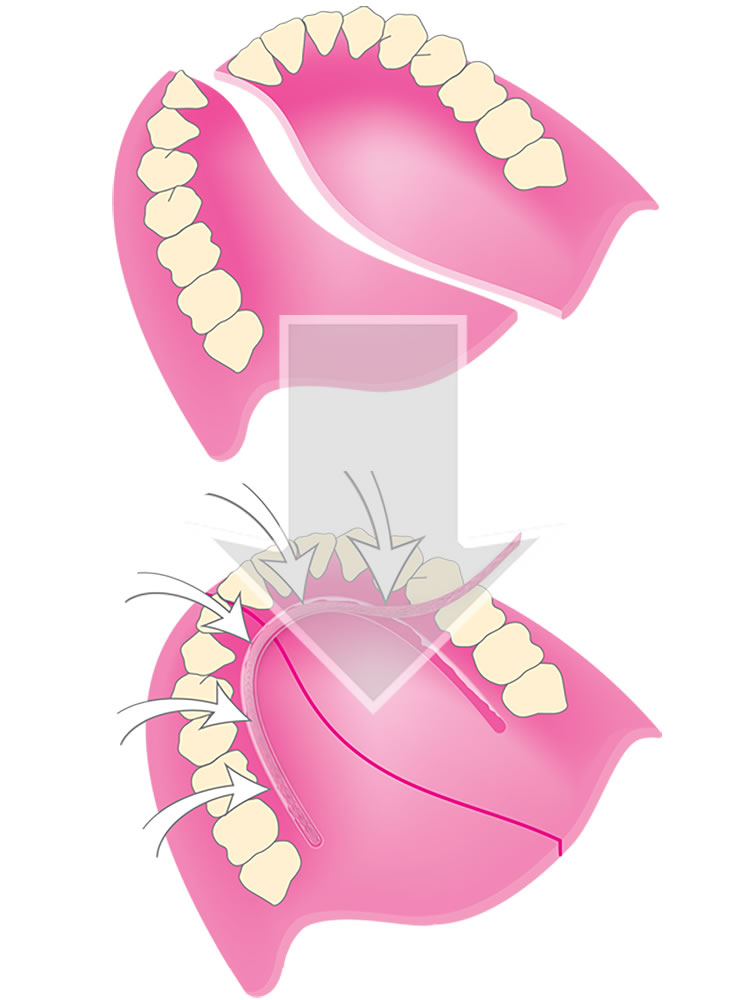 Additional Information
Comparative fracture resistance of denture acrylic repairs
| | | |
| --- | --- | --- |
| A | Repaired denture acrylic without fiber reinforcement | 46.7 N |
| B | Repaired denture acrylic with woven pre-impregnated e-glass fibers | 75.8 N |
| C | Control group (new denture acrylic) | 78.6 N |
| D | Repaired denture acrylic with UD pre-impregnated e-glass fibers | 124.4 N |
Reference:
Kostoulas, I., Kavoura, V., Frangou, M. & Polyzois, L. "Fracture Force, Deflection, and Toughness of Acrylic Denture Repairs Involving Glass Fiber Reinforcement". Journal of Prosthodontics, 17(4), 257-261.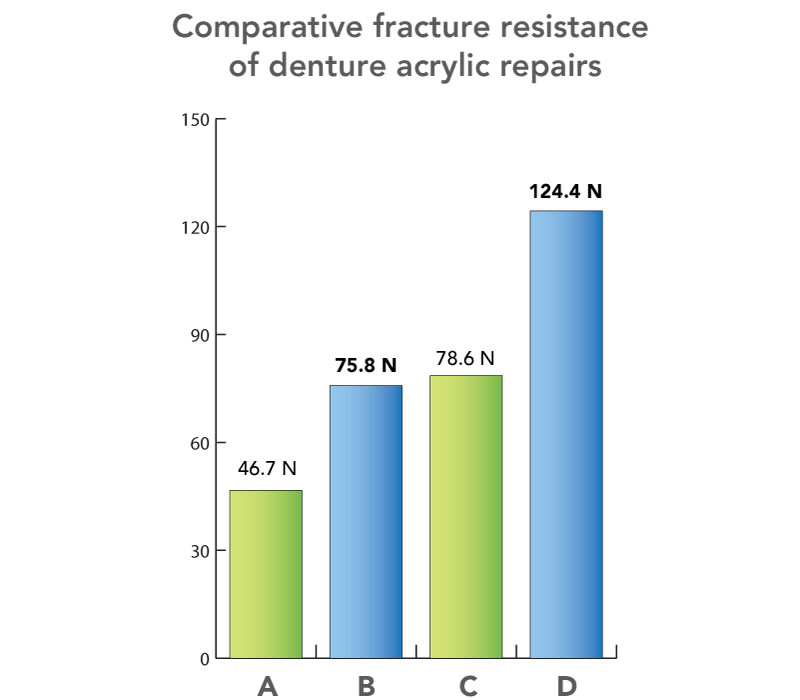 Videos, Tutorials & Instructions
Product Brochure
Download and print or e-mail the latest FiBER FORCE® product brochure. It answers most of the questions that dentists have before prescribing FiBER FORCE® dentures for their patients.